Switch and play: Anytime, anywhere, with anyone Home console gaming on the go - enjoy the home console gaming experience, even without access to a TV Three play modes: TV mode, tabletop mode and handheld mode Share the fun with Joy-Con - attach the two Joy-Con to the Joy-Con grip, it will work like a traditional controller and without the grip they work as two individual, fully-functioning controllers Local and online multiplayer: Link up to eight consoles for multiplayer; online play with friends far away and players around the world
Switch and play
Switch and play: Anytime, anywhere, with anyone
Home console gaming on the go - enjoy the home console gaming experience, even without access to a TV
Three play modes: TV mode, tabletop mode and handheld mode
Share the fun with Joy-Con - attach the two Joy-Con to the Joy-Con grip, it will work like a traditional controller and without the grip they work as two individual, fully-functioning controllers
Local and online multiplayer: Link up to eight consoles for multiplayer; online play with friends far away and players around the world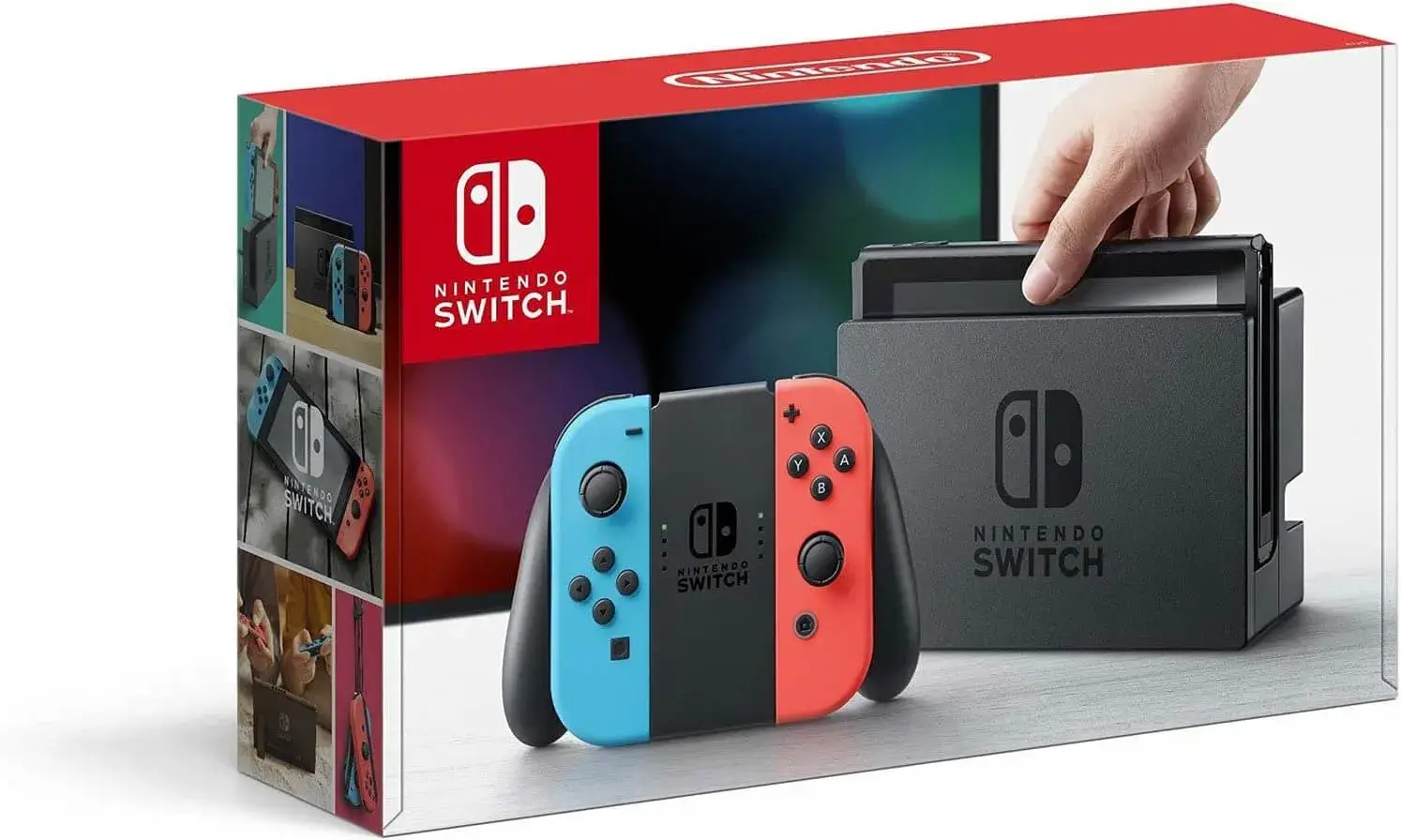 Fantastic Online Support

The console will support online Wi-Fi multiplayer gaming. Nintendo also unveiled a new online subscription service that will begin with a free trial at launch. The service includes a smart-device application that will let users invite friends to play online, set play appointments, and chat with one another as the play compatible games.

32 GB of internal storage, a portion of which is reserved for use by the system. Users can easily expand storage space using microSDHC or microSDXC cards up to 2TB (sold separately).



Home Console That You Can Play Anywhere!

Nintendo Switch is a breakthrough home video game console. It not only connects to a TV at home, but it also instantly transforms into an on-the-go handheld using its 6.2-inch screen. For the first time, players can enjoy a full home-console experience anytime, anywhere.
Share The Joy Right Out Of The Box!

Nintendo Switch makes it easy for players to stay connected. Up to 8 consoles can be connected for local wireless play. By placing the console upright using the built-in kickstand, players can independently use the left and right Joy-Con controllers to experience multiplayer fun anywhere.
The main differences between Switch v1 and switch v2
The V2 of Nintendo Switch System has brighter warmer color for better gaming experience in outdoors.
V2 system has better battery life that differs between (4.5 - 9) hours, depending on the game prefernces.
V2 has different module number that starts with HAC
V2 is packed in a red backgrounded box, V1 is packed in gray one.