Go beyond the limits with the Gold Edition and get the The Crew 2 Season Pass, the Motorsports Deluxe Pack, and up to 3-days early access to the game.
The newest iteration in the revolutionary The Crew® franchise, The Crew® 2 captures the thrill of the American motorsports spirit in one of the most exhilarating open worlds ever created. Welcome to Motornation, a huge, varied, and action-packed playground built within an entire open world America and designed for all motorsports. From coast to coast, four motorsports families gather: Street Racing, Off-Road, Pro Racing, and Freestyle. Join them in high-octane contests and put your skills to the test in each family's set of disciplines, featuring all kinds of cars, bikes, boats, and planes.
Want the freedom to explore and dominate America any way you want? You can now seamlessly switch between ground, water, and air vehicles on the go and enjoy a completely unique game experience based on your personal style. Record and share every glorious moment. The Crew 2 gives you the chance to showcase your skills and rise as the greatest motorsports champion.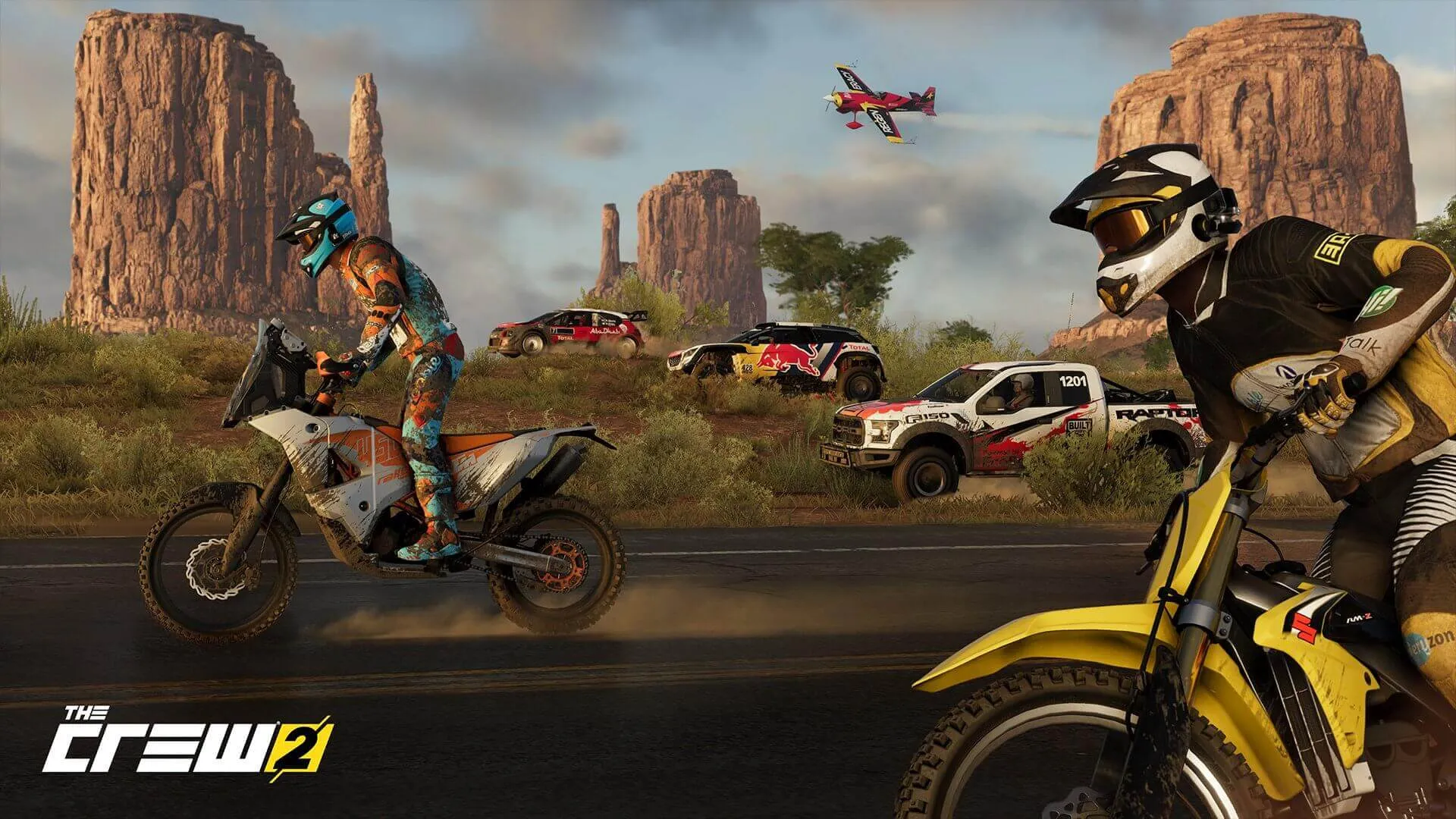 CHALLENGE FOUR MOTORSPORT FAMILIES ON THE GROUND, ON THE WATER, AND IN THE AIR
Burn rubber in the backstreets of New York City with the street racers, go off-road to explore every inch of the Grand Canyon, take up pro racing and tame huge waves on a powerboat, or go freestyle behind the stick of an aerobatic plane, spinning through fog and clouds above the snowcapped Rocky Mountains. In each family's HQ, you will get hooked up with new vehicles and introduced to a unique culture and set of disciplines. Find and hone your personal style, collect and customize your dream rides, and take the lead in Motornation.
SWITCH INSTANTLY BETWEEN VEHICLES AND ENJOY A 100% SEAMLESS EXPERIENCE
The Crew 2 is about empowering you to explore America and dominate your rivals in a near limitless world built for motorsports. There are no menus or loading screens. Seamlessly shift from your favorite cars to boats or even planes with just a push of a button using the Fast Fav feature, and experience the full potential and thrill of Motornation. Cruise through LA in your dream hypercar, switch to the swiftest aerobatic plane to rise above the skyscrapers, and enjoy stunning perspectives over Hollywood. Then swap to a slick powerboat as you reach the coastline, landing smoothly on the Pacific Ocean – opportunities for fun and challenges are limitless.
SHARE AND SHINE IN A CONNECTED WORLD
The world of The Crew 2 allows you to share your thrills and your craziest moments, and to brag about your skills to friends and others. Everything you achieve, competing or roaming free in the open world, drives your progression and upgrades your fame status. As you climb the ranks to become a motorsports champion, through a feature called LIVE Track, every feat of yours is saved and displayed in-game as a new record for your friends to challenge. And with LIVE Replay, your wow moments are automatically recorded into a fully staged video clip.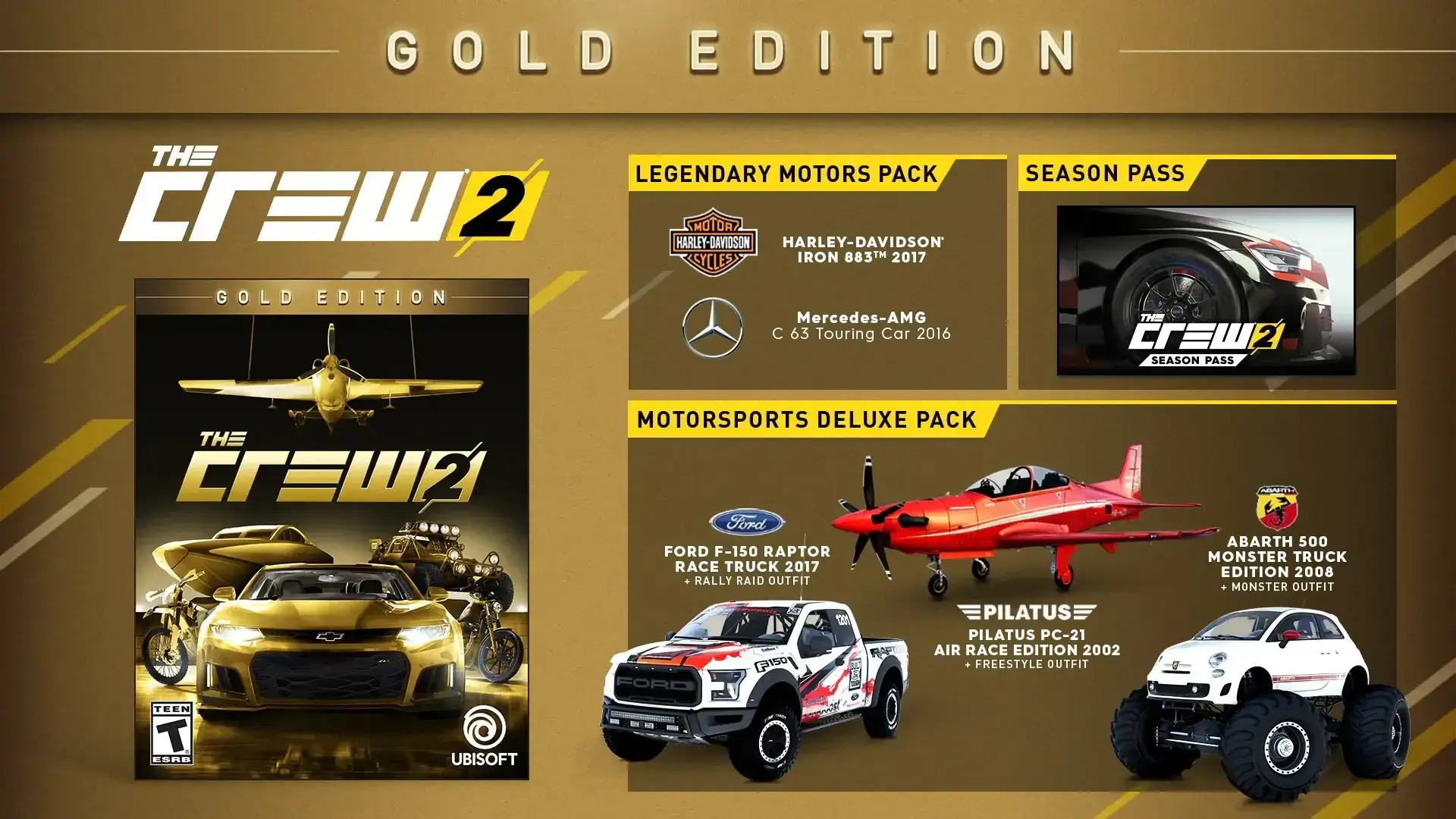 3-days early access*: Get The Crew® 2 three days earlier and gear up before everyone else.
The Crew® 2 Season Pass: Access to new vehicles, VIP contents and much more.
The Motorsports digital Deluxe pack**
Including an early access following vehicles and gear:
FORD F-150 RAPTOR RACE TRUCK 2017: Take insane off-road trips with this truck built for the desert and hilly landscapes.
ABARTH 500 2008 MONSTER TRUCK EDITION: Dominate your playground with the sport version of the illustrious Fiat 500 modified with a monster spec pack.
PILATUS PC-21: Fly over the open-world USA with this airplane considered as one of the most advanced training plane on the planet.
3 OUTFITS: Customize your avatar with one Freestyle, one Monster Rally and one Rally Raid outfits.