Nanoleaf 15 panel With HEXAGONS Shape Connected together into any desired layout, abstract forms or your favorite shapes. .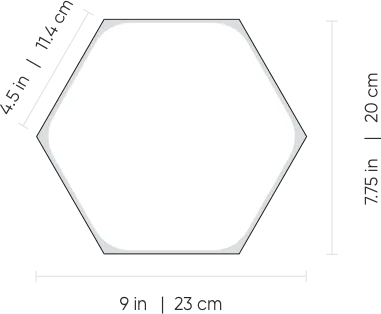 Features: -

General: -

Luminous Flux Per Panel: -100 lumens
Lifetime: - 25,000 hours
Communication Protocol: -WiFi (2.4GHz b/g/n)
NOTE: 5GHz networks are not compatible with Nanoleaf products.
Dimmability: -Yes (via Nanoleaf App, Voice, Touch)
Mounting Type: -Via included double-sided tape or screw mounts (screws and anchors not included)
Nanoleaf App: -Control via the Nanoleaf App (Android & iOS) for mobile/tablet or the Nanoleaf Desktop App (Windows & Mac).
Compatibility: - Apple HomeKit, Amazon Alexa, Google Assistant, IFTTT, Nanoleaf Remote, SmartThings
Color: -
Color Temperature: -1200K – 6500K
Color Channel Configuration: -RGBW
Color Capability: -More than 16 million
Color Rendering Index (CRI): - 80
Power: -
Voltage: -100VAC ~ 120VAC
Max Power Supply Power: -42W
Max Energy Consumption Per Panel: -2W
Max Panels per Power Supply: -21 hexagons per 42W PSU
Max Panels per Controller: - 500 Hexagons
Connect+: - Yes, Shapes panels are designed to work together
Touch Control: - Yes
Music Sync: - Yes
Screen Mirror: -Yes
What in The Box ??
15 Hexagon LED Panel
1x Control Panel
15x Adhesive tape
1x Power unit
15x Connectors / Linkers