PSVR PlayStation VR Bundle - 5 Games and camera For region 2 only with best prices. this mega bundle included Five acclaimed fames to download from PlayStation Store (ASTRO BOT Rescue Mission ,Everybody's Golf VR ,roller Moss Blood & Truth and PlayStation VR Worlds ) Now you can try the Experience of 3D gaming & augmented reality 360° vision & true 3D audio Includes headset ,processor unit ,camera ,headphones and accessories. this bundle is Compatible with PlayStation 4 And 5. for region 2 only
Futures:
VR Mega Pack
Immerse yourself in new and breath-taking worlds and dimensions with the Sony PlayStation VR Mega Pack 3. With a headset, camera and stand, the pack contains everything you need to dive into VR. And it comes with a voucher to download 5 games from the PlayStation store.
Immerse yourself
Let the super low latency and smooth 360° visuals take over. Together with 3D audio, you'll feel totally immersed in your new surroundings.

The controls work alongside you to keep you immersed in the virtual world. Whether you're using your DUALSHOCK controller, a PlayStation Move motion controller, or a PlayStation VR Aim controller (all sold separately), you can lose yourself in the game without losing control.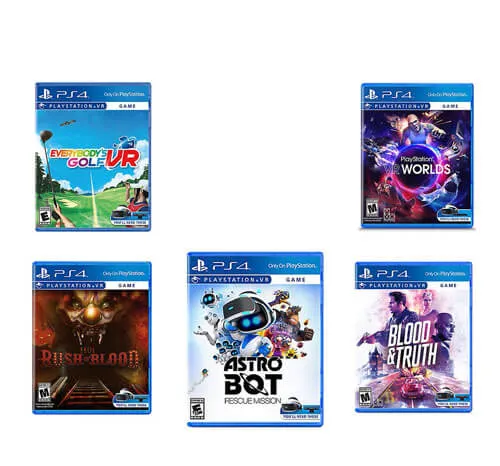 Five Vouchers For Games Included
ASTRO BOT Rescue Mission is a fun platformer that lets you adventure through space. Moss is an action-adventure puzzle game, where you play as Quill, a young mouse who yearns for adventure. Blood & Truth is an action-packed first-person shooter, while Everybody's Golf VR lets you practice your putting over three impressive courses. Finally you'll have PlayStation VR Worlds, which included 5 different experiences so that you can enjoy the best of VR.
Compatibility
Box contents - PlayStation VR headset
Processor unit

PlayStation Camera and stand

PlayStation Camera adaptor (for PS5)

PlayStation Store voucher code for

PlayStation VR Worlds

PlayStation Store voucher code for

Five games
(ASTRO BOT Rescue Mission Everybody's Golf VR roller Moss Blood & Truth PlayStation VR Worlds games for region 2 only)

Stereo headphones and earpieces

HDMI cable

USB cable

AC adaptor

C power cord

Printed materials

Cleaning cloth