DOBE Multifunctional Cooling and Charging Stand for PS5, This product can charge two PlayStation 5 controllers at the same time.
About Product:

This base is compatible with the PS5 optical drive version/digital version host.
The built-in two speed-regulating fans can speed up the air circulation at the bottom of the PS5 console to achieve the purpose of heat dissipation.
The fan control switch on the left side can switch the fan in four gears (fast gear, medium gear, slow gear, OFF gear), using smart chip control, and has a power-off recording function.
There are 11 disc slots on the left side of this product, which is convenient for users to put 11 boxes of game disc boxes they like to play.
This product is equipped with a Y-type data cable that can be powered from the two USB 3.0 ports on the back of the PS5 host and can support USB2.0 data transmission, without the need to purchase a power supply.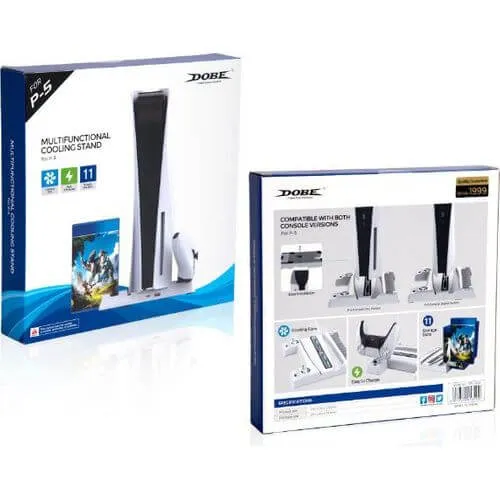 Features:
1. This product can charge two PS5 original handles at the same time. When charging, you can see the orange breathing light from the front of the handle, and the orange breathing light of the handle will go out after fully charged. (Note: Charging can only be done when the handle is not connected to the host. An orange breathing light will be displayed. If the handle is connected to the host, only a white light will be displayed on the handle when charging. If the handle is being charged in the game, the handle will be long blue and white light).
2. There is an A-type USB 2.0 data transmission interface on the left side of the product, which is mainly used to connect the PS5 controller for gaming. At the same time, it also provides 5V DC power output. Because this USB2.0 port directly fetches power from the PS5 host, when the two PS5 handle charging ports on the cradle are charging, it is not recommended to connect a large current charging load to the USB2.0 port , Otherwise, the PS5 handle or external device will not be able to charge normally. If the charger does not have a handle, the USB2.0 port can also charge the USB charging product (but this port may not be compatible with charging some digital products).
Specs:
he handle is fully charged time

about 4~4.5 hours

Packing size

23.8*3.7*23.8cm, 600g

Full charge time of controller

about 4 ~ 4.5 hours

product material

ABS + hardware floor

Accessories


oneY-type USB2.0 to Type-C data line,

two type-C adapters,

one set screw.

Product length * width * height

235 * 230 * 30MM,

Package includes:
1x PS5 Multi-function charging stand(Controller and console are not included)