Feel the power of Pro
Awaken your senses with PS4 Pro - gaming evolved with the most powerful PS4TM console.
4K-TV gaming and entertainment1

Play the latest PS4 blockbuster games and PlayStation exclusives in stunning 4K from the PS4 Pro console on your 4K TV, and stream your favourite entertainment with incredible visual detail from 4K compatible services.

Faster frame rates
Increase your immersion in PS4 games with boosted frame rates* in a range of PS4 Pro enhanced games, made possible by the extra power of PS4 Pro.
Double the power of PS4
PS4 Pro packs in twice the GPU power of the standard PS4 – letting you experience incredible image clarity, smoother gameplay and shorter load times in select PS4 Pro enhanced games2.
HDR technology
Enjoy more vibrant, lifelike colours and details in every part of your gaming experience when you play HDR-enabled games on an HDR-compatible TV.
4K gaming
Play the latest games in amazing 4K1 clarity; sunsets become warmer, materials take on realistic textures and environments come alive like never before.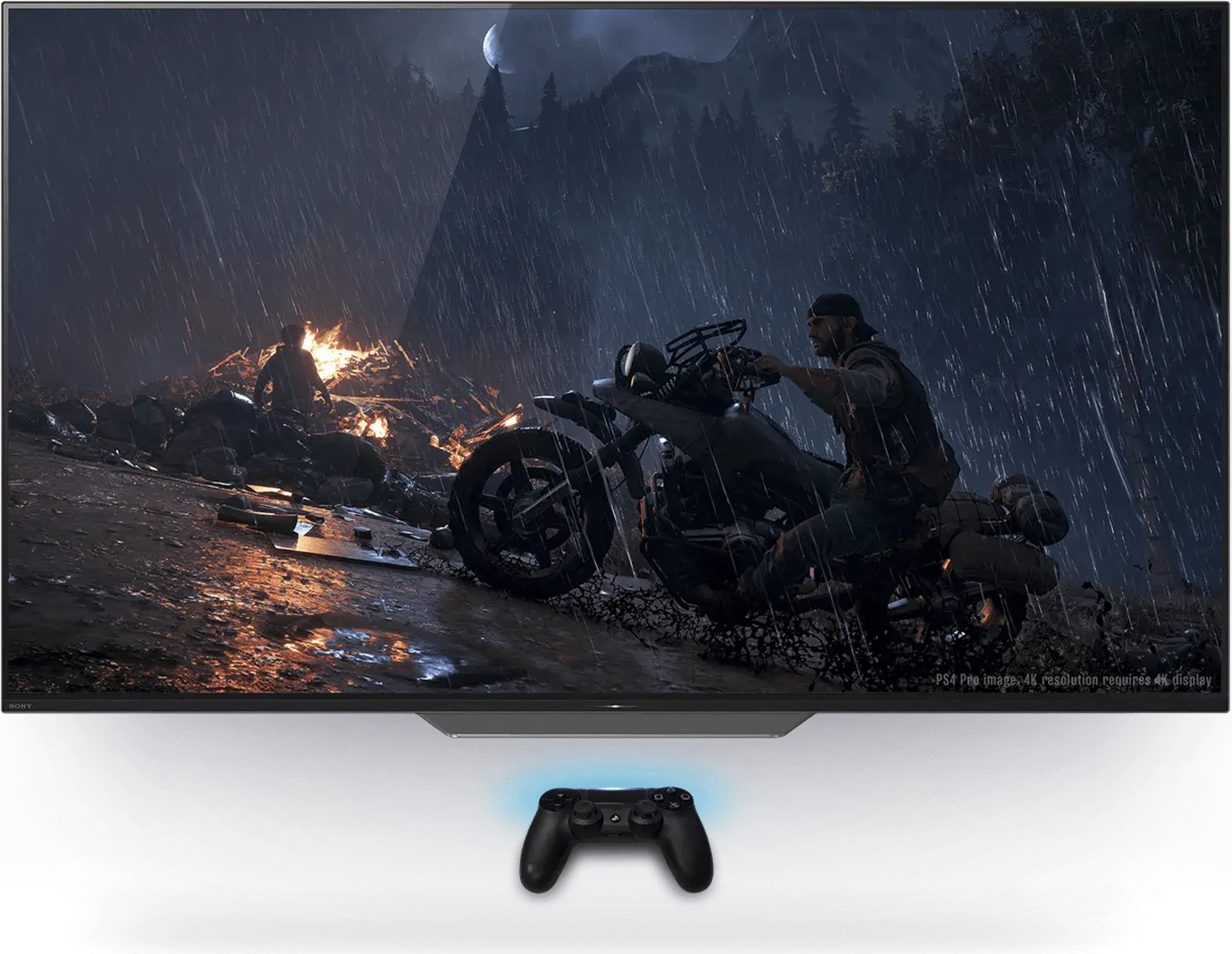 Stunning graphical details
With PS4 Pro, select games are enhanced as faces take on life-like realism, curves become smoother, corners are sharper and visual elements like hair, water and grass bristle with life.
Intensely vibrant colors with HDR

With an HDR TV, compatible PS4 games display a range of colors closer to the full spectrum that the human eye can see, delivering unbelievable vibrancy and lifelike details.
Incredible immersion
Action becomes faster, smoother and more explosive with support for faster and more stable frame rates2.
FPS boost: locked
Frame rates are boosted and locked in place for some games on PS4 Pro
FPS boost: targeted
PS4 Pro targets faster frame rates for select PS4 games.
Breath-taking environments

Close-up details and textures like dirt and rust become more intricate with PS4 Pro compared with PS4 - while darker, cleaner shadows at greater distances give games an enhanced sense of depth.
Incredible entertainment
Stream the biggest movies, TV shows and videos in 4K resolution1 from Netflix, YouTube and a host of entertainment apps with auto-upscaling. Start watching now, via the TV & Video tab on the PS4 home screen.
Enhanced visuals on any TV
Get a spectacular gaming experience from your PS4 Pro enhanced games – even when playing on a non-4K TV. Supersampling mode takes your game's highest resolution and uses that extra visual information in certain games to deliver smoother curves, sharper edges and more refined details when downscaling to an HD TV.