About the V3II Racing Wheel:
PC DUAL MODE STEERING WHEEL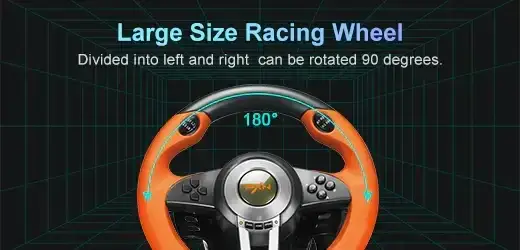 180 degree rotation
The PXN V3II is perfect for racing games, with a 180 degree rotation ideal for the genre. PC gamers will love the fact that the PXN V3II can switch between X-input and D-input mode, so whatever the needs of the game the PXN V3II will be perfect for them. It comes with both linear foot and paddles.
The linear foot pedals are comfortable to use and ultra responsive, while the sports car style paddles are great for shifting quickly through gears.
ENJOY MORE RACING GAMES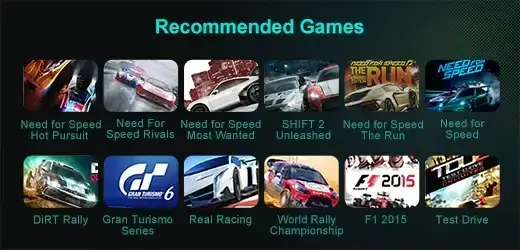 The PXN V3II game steering wheel can be used with many of your favourite PC games, such as European Truck Simulator, etc; on Xbox the PXN V3II can be adapted to Horizon 4, Dust 2.0, and other games; PS compatible games include Need for Speed , Super Touring Car, and more, while Nintendo Switch compatible games include Asphalt, Sonic Racing, Mario Kart and other games.

HIGH-QUALITY STRUCTURE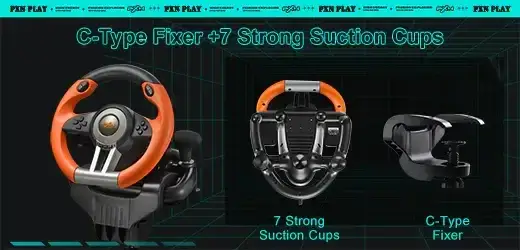 The wheel of the PXN V3II is made of a high quality, matte, non-slip ABS material that feels great to hold and handles. The double vibration motors enhance the realism of your race when veering off track or crashing.
The 7 powerful suction cups, and C-shaped fixing frame keep the PXN V3II firmly in place no matter how long you're racing, so there's no need to worry about losing control on a crucial turn.

MULTI-PLATFORM STEERING WHEEL
The PXN V3II is a cross-platform steering wheel that's compatible with Xbox One / PC / PS3 / PS4 / Xbox Series S&X / Nintendo Switch platforms and Windows 7 / 8 / 10 operating systems, so whatever system you race on you can rely on the PXN V3II.